All right, here we friggin' go - again. I can't post as many pictures per post on this board, so this is going to be about 5 posts long...
----------------------------------------------------------------------------------------------------------
This story starts out in an interesting way for me and has nothing to do with the game or MGP. I had to work until 8:30 AM on Saturday, so I knew I wasn't going to get much sleep. I woke up at noon because I had to go over to my friend's house to let their dog out. He called me before I went and told me he forgot the free tickets I had given him for the game, so I had to go get those too. I went to my friend's house, opened the door, and the dog was in the living room. I was trying to get the dog to come outside so it could do its business. This dog is always pretty happy to see me come over (why I have no idea), so what did it do?
It peed all over the kitchen floor when it ran over to me. It also peed on the carpet in the living room twice.
I finally got the dog outside, and of course, it didn't do anything out there except run around. After a few minutes of running the dog went back inside. I figured my job was done. So, I locked the door to the side entrance...
And then I realized I left my car and house keys in the house. Fuck.
I called my friend. He told me he locked all the windows in the house, so there was no way I was getting in through a window. I then resigned myself to thinking I would have to have schnoah pick me up at his place since I was going to drive us both down there...so much for that.
After giving him a call and giving directions, I got creative. My dad is a locksmith, and I helped him for the better part of 15 years opening houses, cars, safes, etc. I tried to devise a crude lock picking device out of the tines of a rake. Unfortunately, they didn't fit in the lock. Then I had another bright idea. I got out my Capital One "No Hassle" Card (that I never use) out of my wallet. I figured I could try to bypass the latch mechanism if I could get my card to depress it enough...just like you would see in a movie.
And wouldn't you know - it worked.
I was jumping up and down, marvelling at my creative thinking. I was also laughing at how terribly unsafe my friend's house is...anyway, I got my keys, called schnoah, and everything was back on schedule. True story.
We left my place around 1:45 PM. Since we were going to get there a little early we stopped off at a Subway where schnoah scarfed down a footlong sub. Then it was off to Gold 2 to find the elusive Honda Odyssey owned by PBD. It was at that point I decided to play some "YYZ" by Rush...you know, just to get in the MGP spirit.
It didn't take long before we found PBD's vehicle...and it was decorated well.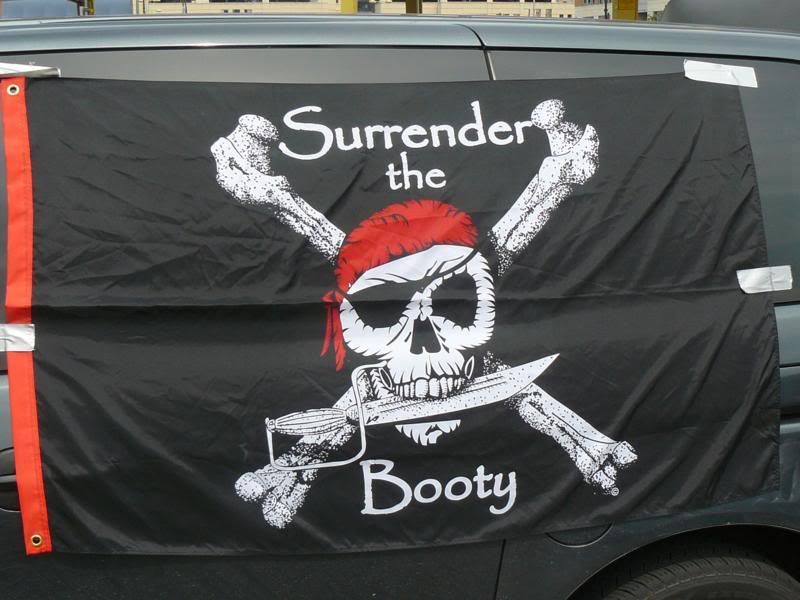 I had made a sign for the event at work the night before (yeah, I had a busy night), so we duct taped it up to the back of the tailgate and had everyone sign it.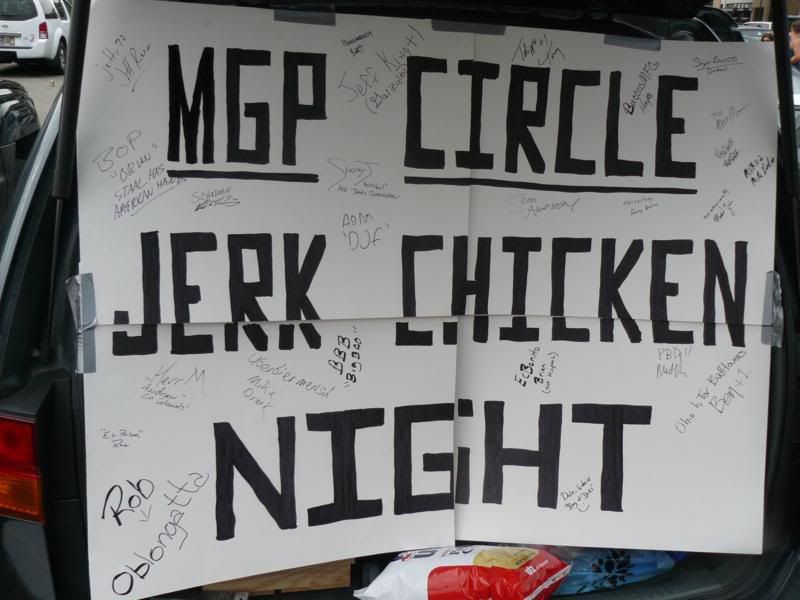 There were also the great shirts and jerseys that were made by penguin, buccosmfg, and Jeff King. mfg's was definitely unexpected: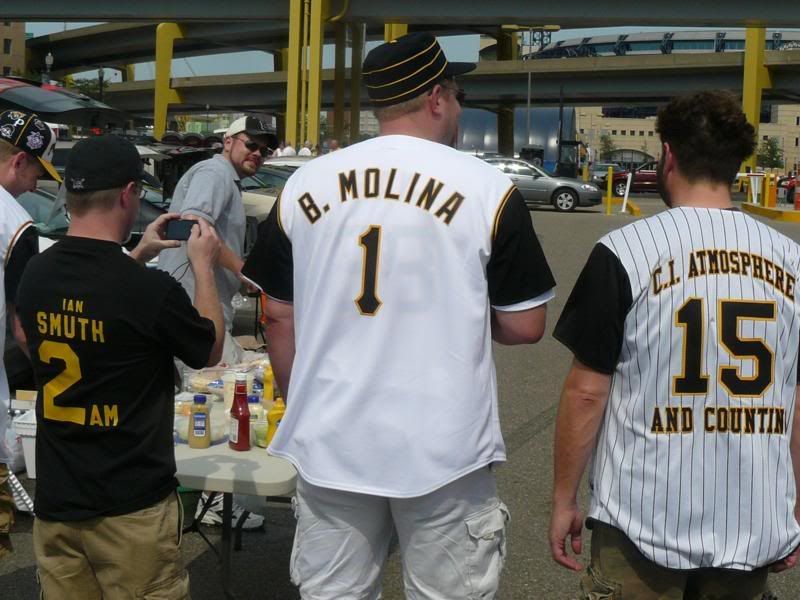 Others continued to pour in to the tailgate area. Apparently many of them realized they had found the group due to my hair. Here's a shot of the early meet and greets: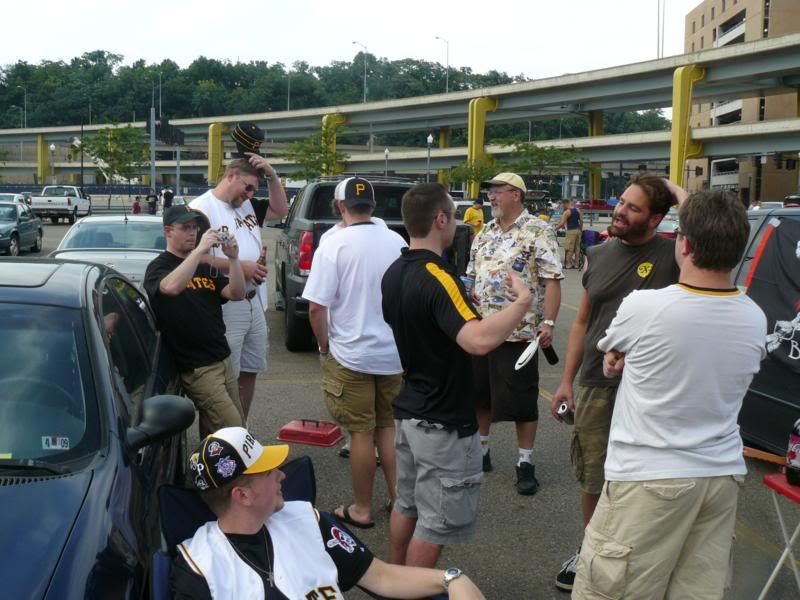 It was 30 minutes in, and we realized we had a problem - no one had brought burgers. SyrBucco was getting impatient...so impatient that his junk caught fire and left a large imprint on a paper plate that he had next to his privates:
oblongotta and Ohio_Is_For_Buttlovers were amazed.
Shortly afterwards, Zimm arrived...and it didn't take long for him to start drinking anything and everything available.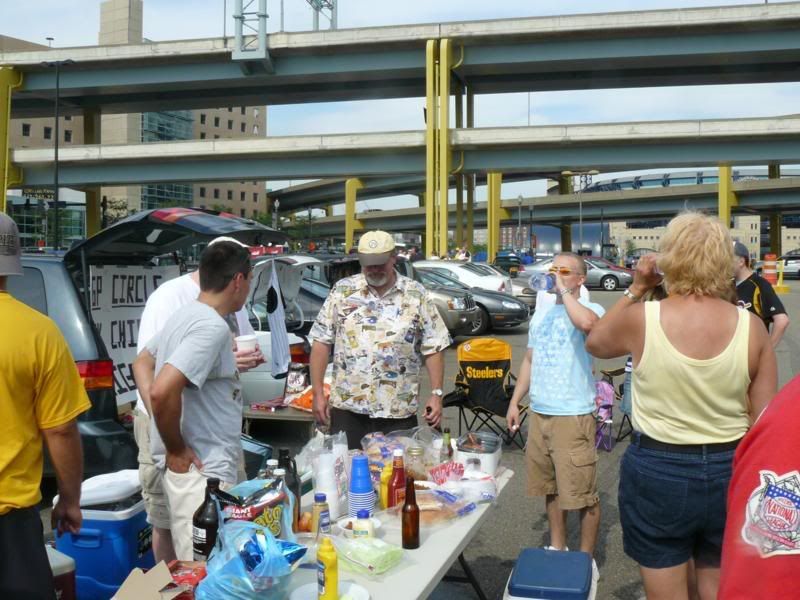 Next came the astonishing appearance of DJF. Man, did he look different that I thought he would! Here he is with penguin and bucc-o-pain marveling at the wonders of "Cornhole."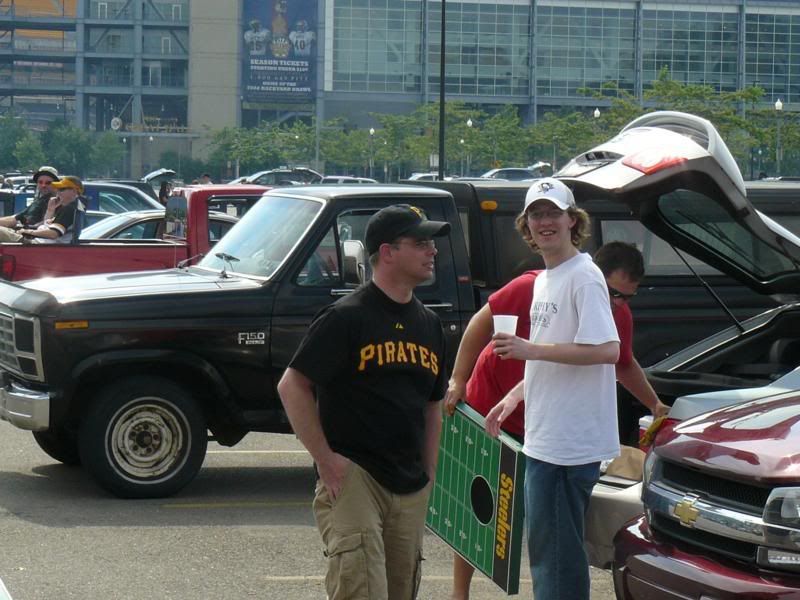 BOP and schnoah accurately measuring the playing field: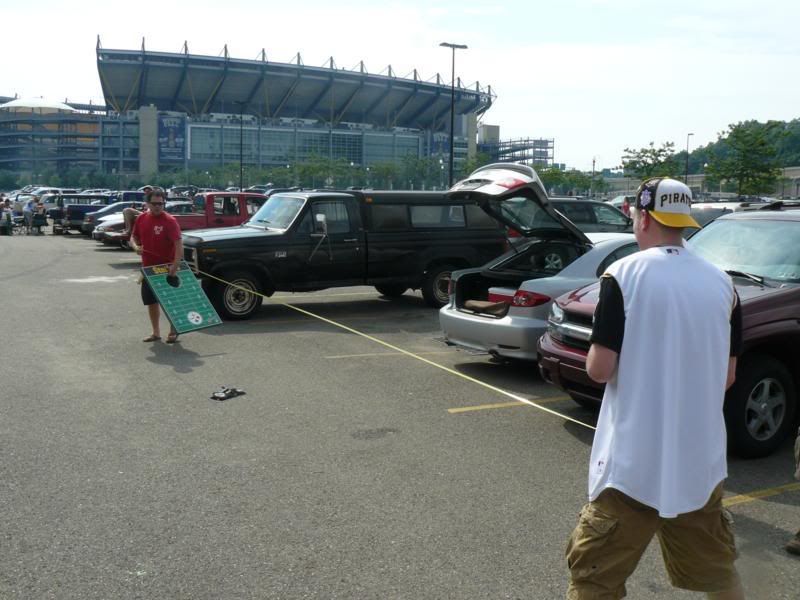 PSU showed up with Zimm...and guess what - HE BROUGHT THE BURGERS! Master chef oblongatta started the all-important grilling process.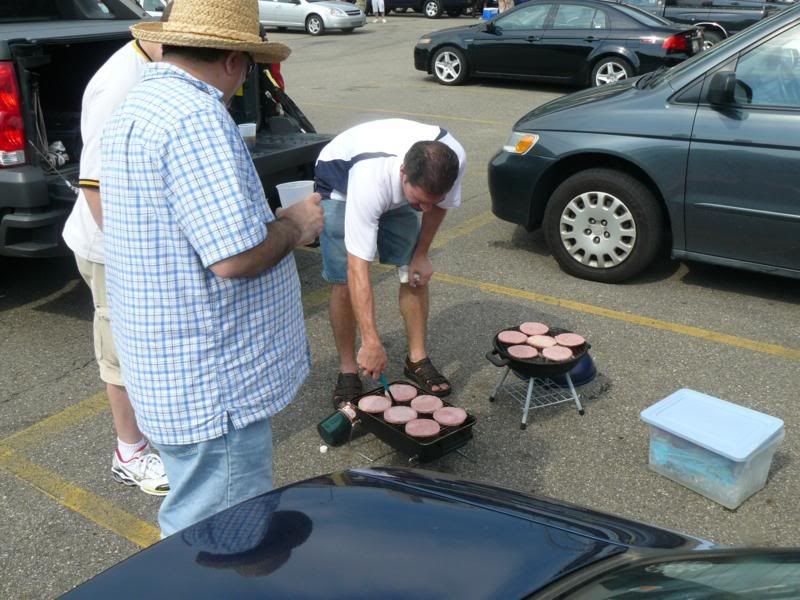 Once the burgers arrived, the party really got started. Most everyone had made their way to the tailgate.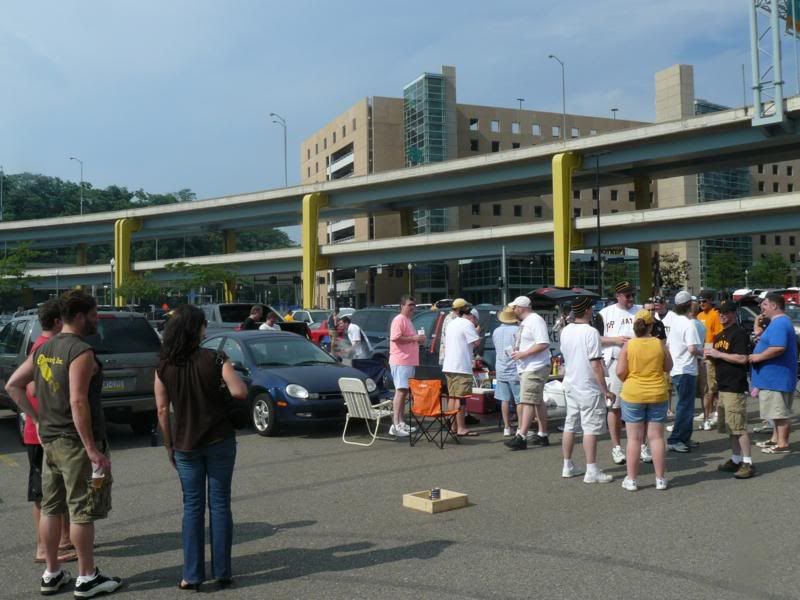 (Note the stunning camera angle I used to include Jeff King's wife.)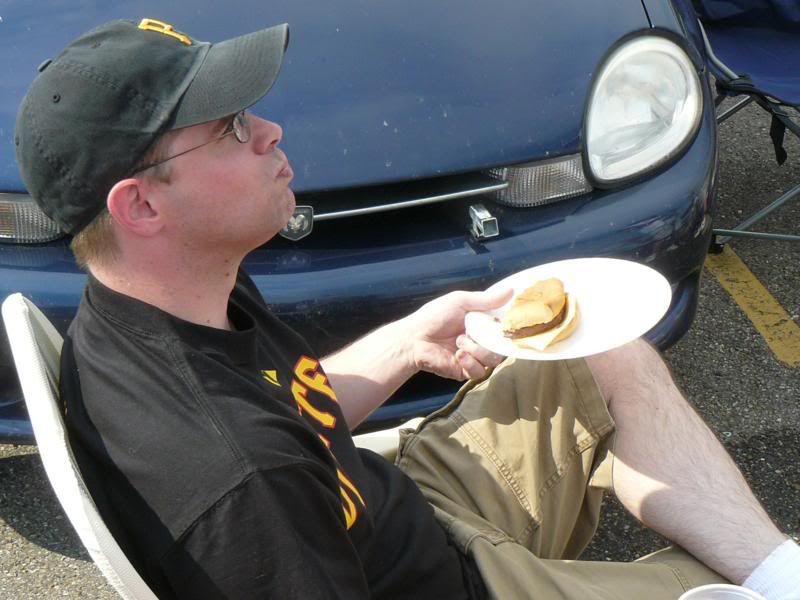 penguin definitely enjoyed his meat!
A couple late stragglers were still rolling in...when I saw this guy, I knew it had to be uber: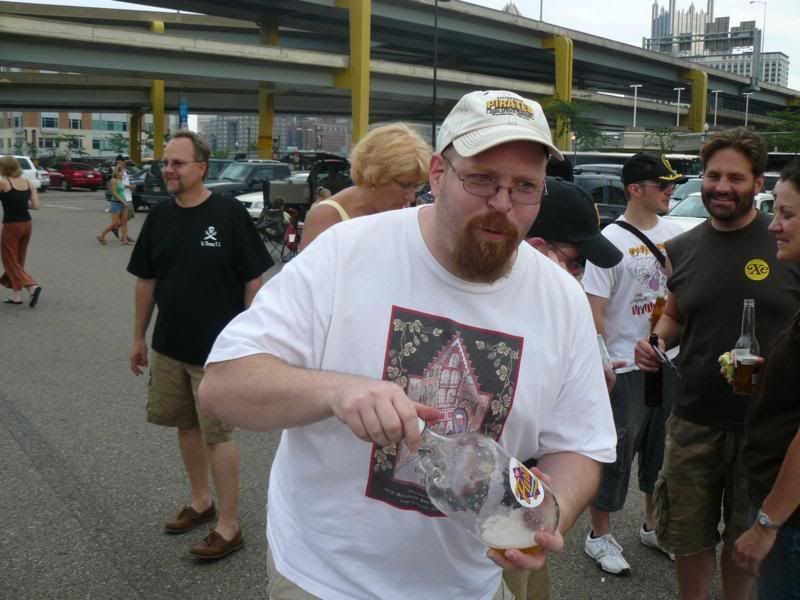 Four whole jugs of this stuff...and I'm quite certain this and a lot of other alcohol was consumed.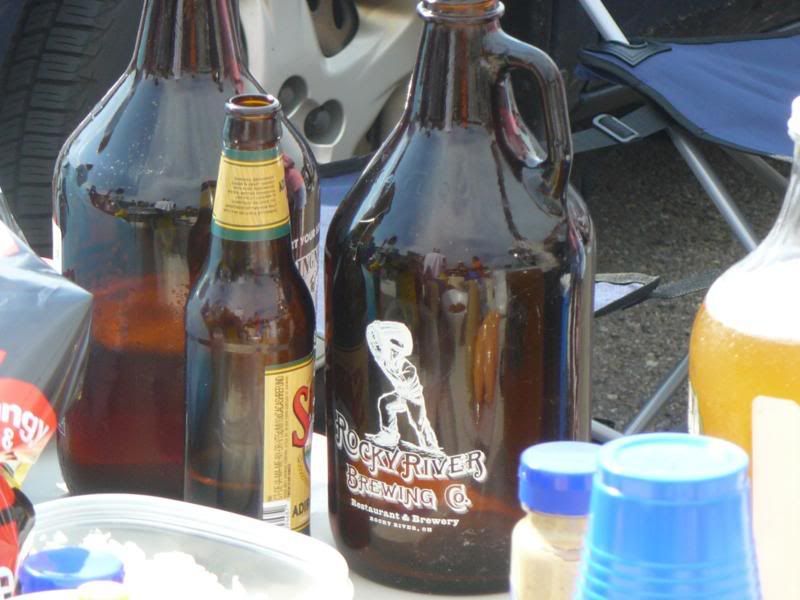 BigBadBucs also made an appearance...I'm really bummed that I forgot to get a pic of him. I thought I did, but I didn't see it anywhere on my camera. He was an extremely nice guy without a care in the world! He even brought some baseball cards. Unfortunately, they didn't come with bubble gum. I figured, "Hey, maybe the wrapper is the gum:"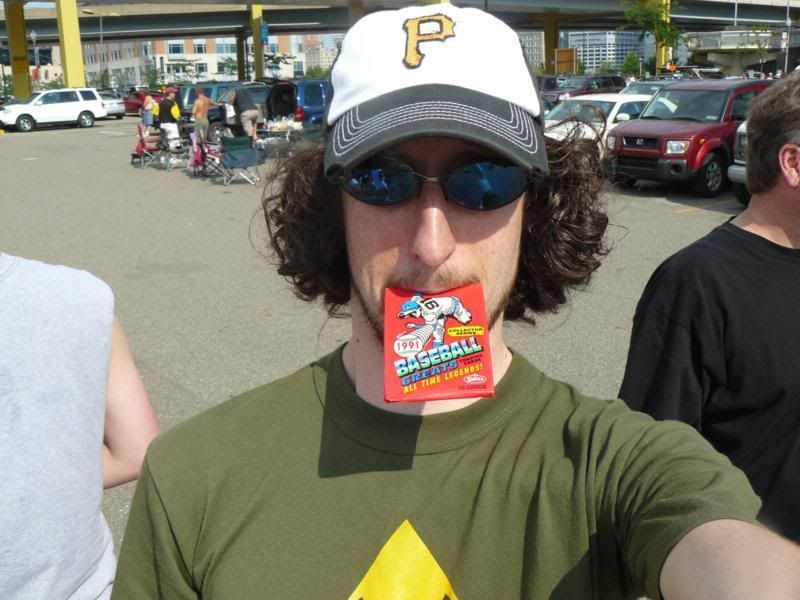 It wasn't.
Then, the Cornholing began. Ohio was squaring off against Extra Large Poison: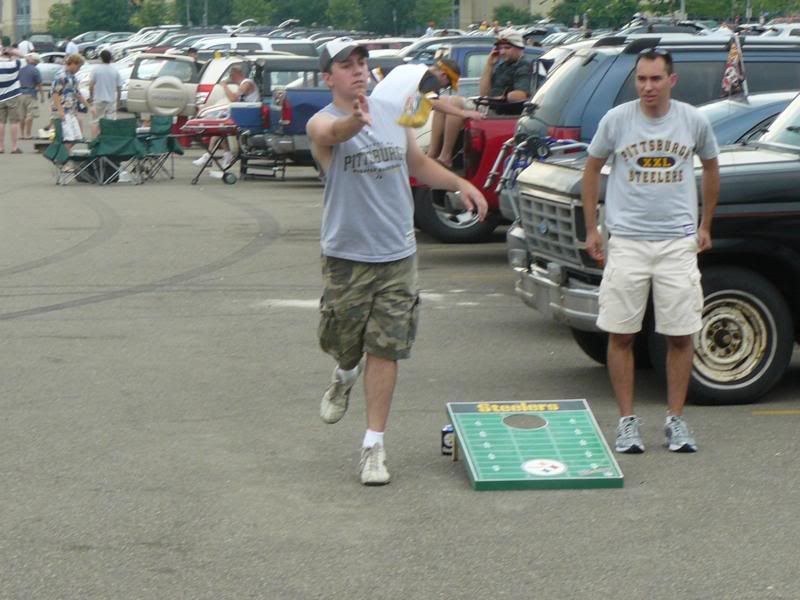 schnoah was trying to keep his shoulder from falling off while tossing the bags:
Ohio's girl was in on the action too:
In the end, Zimm was effectively cornholed by oblongatta...right in the face.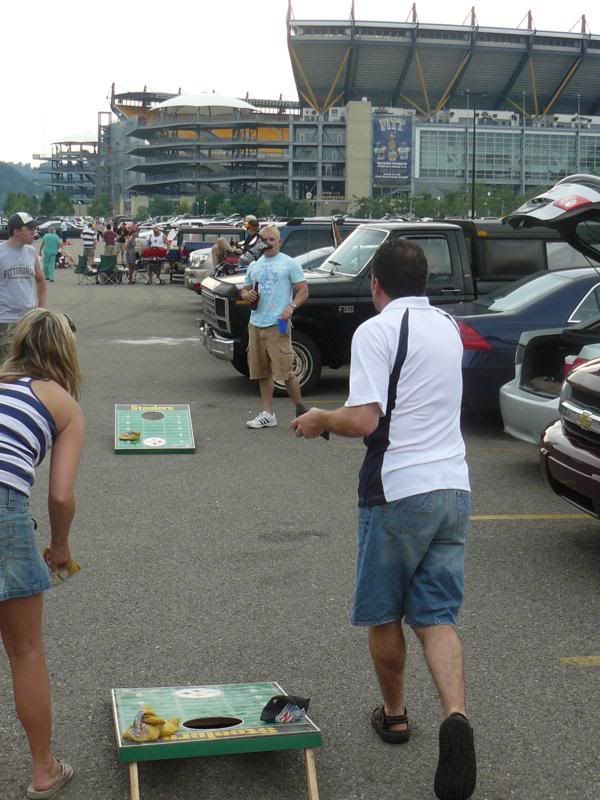 Speaking of girls...I think everyone was in great anticipation for the arrival of tdippo's wife (and tdippo, of course). She did not disappoint, although I did disappoint in snapping a pic of her with her eyes closed. My bad.